Chi-Nei-Tsang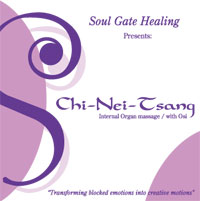 Transforming stress, pain & negativity into a vital force of creativity.
According to the Healing Tao, the internal organs contain the very essence of our physcial, emotional, and spiritual life force. Our total health and well-being are dependent on the harmonious functions of the internal organs.
The unique methods of Soul-gate Healing explore the connections between the emotional body and various symptons of pain, dis-ease, or dysfunction of the organs. This DVD presents powerful methods of balancing the chi vibrations within the organs-to restore their physical functions as well as the flow of emotions and supportive attitudes.
The navel is the center focus of the internal organ massage as it is the pre-natal pathway of nourishment and purity. Healing sound vibrations are combined with special acupressure points and deep internal organ stimulation. This transformational process is very centering, relaxing, rejuvenating and empowering.